For Fall 2019 boots are a must.  Not only are they functional but with the trends in ready to wear boots are a perfect match and that's great because we love boots at the Bootery.  With over 35 years in the footwear industry our buyers know how to pick the best of the best.  Let's take a look.... AGGRESSIVE OUT SOLES: Considering Fall 2019 fashions are "over the top" or "CAMP" there is no wonder that double stuffed out soles continue to dominate the footwear industry.  Sneakers, Dress Heals and Boots will all have bottom interest.   Easily worn with wider...
---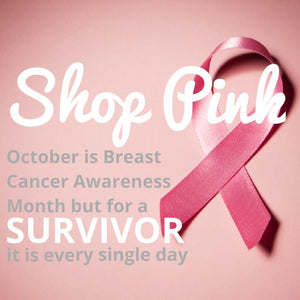 "As strong as you think you are, you will find you can be stronger."    ~Cristina Garrison When one of our owners came down with breast cancer in February 2018 it hit close to home.  Join us this October as we promote awareness of this important cause.  "Shop Pink!" Libertyville's First Friday Night October:   Come shop with us Friday October 5th 6-9:00pm in Libertyville and 10% of the proceeds from the event will go the the American Cancer Society. Walk With Us: You can also join the Forest Bootery's team the Pink Ladies when we walk on October 14th during...
---
Trending for Fall 2018  Go "Wild" for the Textures, Colors & Silhouettes of the Season! Trend #1 The Shootie      It's not as tall as a boot or as low as a shoe it is a "shootie" and we find them to be freshest new sillouette this fall.  Not just for leggings, these must haves are great with skirts, dresses and even jumpsuits.     We love them as a fall staple that pairs with all the embellished details that 2018 has to offer.  Leather whip stitched leggings, fur collared sweaters and man tailored plaids are no match for this simple silhouette....